Over the weekend I went to Phoenix, SAGA's annual larp con. It was my second year of attending, and I've got used to the quirks of their format. Phoenix is a non-residential, non-catered con, so you have to fend for yourself. Fortunately their venue was in easy walking distance of the motel I'd chosen, and there were plenty of people willing to give people a lift to get them somewhere they can buy lunch in the rain, so its not that much hassle. The con format and seminar room venue means that it is pretty much restricted to indoor theatre-style games, for the moment at least. The game list is here.
Friday night: Like There's No Tomorrow (Chloe Sutherland and Robert Vincent): What would you do if there was only three hours until the total destruction of humanity? Turns out that what people actually do is play Twister, to backing music by Europe. That, and try desperately to settle their personal business while they have time. It was a touching game, and quite morbid - some characters killed themselves before the end (three of them right in front of me). People reunited with loved ones, considered their faith, hooked up, desperately tried to use the jammed phone lines to say goodbye to absent loved ones, wrote on a wall in case we all survived, and said stupid things to the camera. And then we all died - dangit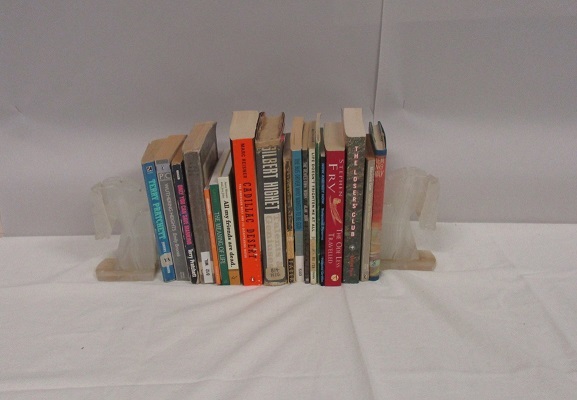 The world's most depressing book collection.
If you get a chance to play this one, I really recommend it.
Saturday morning: The Koenig Dead: The second episode of Tony Mitton's gradually expanding Kestrel Saga, facilitated by @Catnip. I can't say too much, because its running in Wellington next month, but I had a good time as Sax, and I'm really looking forward to The Omega Delivery next year.
Saturday afternoon: The Hunt for Excalibur (Samantha Nicholls): A sequel to Call of the Wild Hunt, which I'd previously played at Hydra. TBH I had little idea of what was going on and what I was meant to be doing, but it didn't matter - I was cast as the Archangel Michael, and got to spend the game needling my brother Lucifer and chewing the scenery before biting off more than I could chew (turns out Father wasn't as big as he claimed to be). A great time, but a bit confusing in its mythology.
Saturday evening: A Pomposity of Professors (Stuart Stoddart and Jo East): Comedy university politics, the larp! A collection of academic stereotypes battle it out for prestige, promotion and free drinks! Also, a seditious conspiracy of TAs, a tiger, and a restructuring. While I tried hard to be the world's worst professor (one of the ones whose sole skill is mercilessly exploiting their postgrads and who hates students and teaching), apparently I still wasn't as bad as some real life ones. Which, given that I was advocating using undergrads for pharmacology experiments (just give them a McDonald's voucher and its all fine) and considering adopting the culinary arts' Gordon Ramsey-style motivational methods, is a bit frightening. A very silly game, but a lot of fun.
Sunday morning: Inheritance: Sunday was GMing day for me, and first up I ran Warren Tusk's transhuman game (available here). I think it went well, with the death and the resulting wheeling and dealing serving as a bit of a stalking horse for discussion about personal identity and what to do when you can do anything.
Sunday afternoon: Boffo's Birthday Bash: The rain had stopped, so I ran @Catnip's Wodehousian comedy outdoors in the courtyard as a garden-party. It worked well, with a lot of eavesdropping on people through hedges. The players also went wild with the drink-spiking mechanic (slipping someone a stiff drink so they'll have the courage to propose being an old Wodehousian trope, though people did seem to enjoy brining the Aunts unexpectedly alcoholic drinks). There were several dognappings, a bit of biffo between friends, and some bribery of the footman, before it all ended happily with a series of proposals and an aunt being dragged off to the loony bin (and all it cost was a fiver). All in all an excellent time, but I shudder to think what will happen at the engagement party.
Again, I had a great time, and I recommend this con. And for those nervous about non-residential cons, apparently they're looking at a scout camp for next year to avoid being screwed by UCSA again, though that will significantly increase the price.