For the past few years I've been tracking stats about larp attendance in New Zealand. The full dataset is available on the web here: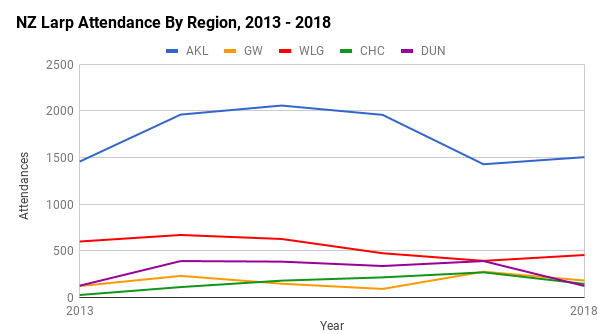 The headlines:
Overall larp attendance fell by ~13%. This follows ~10% declines in 2016 and 2017. Overall, the number of player spaces is down ~30% from the 2015 peak.
The decline in larp was in the smaller regions: Greater Waikato (down 35%), Christchurch (down 56%) and Dunedin (down 70%). In Auckland and Wellington, the amount of larp actually grew.
Note that there was a methodology change since last year, which has seen monthly campaigns estimated at 15 players per session rather than 20. This affects Auckland and Greater Waikato only.
Auckland and Wellington were really about stabilization: events happened, rather than being cancelled. Both had (and have) healthy schedules where there is always something on.
In Greater Waikato, there now seems to be no larp outside the monthly WoD campaign "Crossroads", which is now entering its third season. Other styles have simply disappeared.
In Christchurch, numbers seem to be down due to fewer larps at Saga's regular minicons, though Buckets of Dice and Phoenix are still healthy venues.
In Dunedin, there's a similar story about minicons, and OURS didn't run a regular monthly campaign either (though there is Fate/Clocktower, which runs roughly bimonthly).
So, better than last year, but we might want to look at what we can do to promote larping and help events happen in the areas where its weaker ATM.